Oleh is an excellent violinist. He is one of few, who truly plays with his heart.
Euhen Stankovich, Chief of Ukrainian National Union of Composers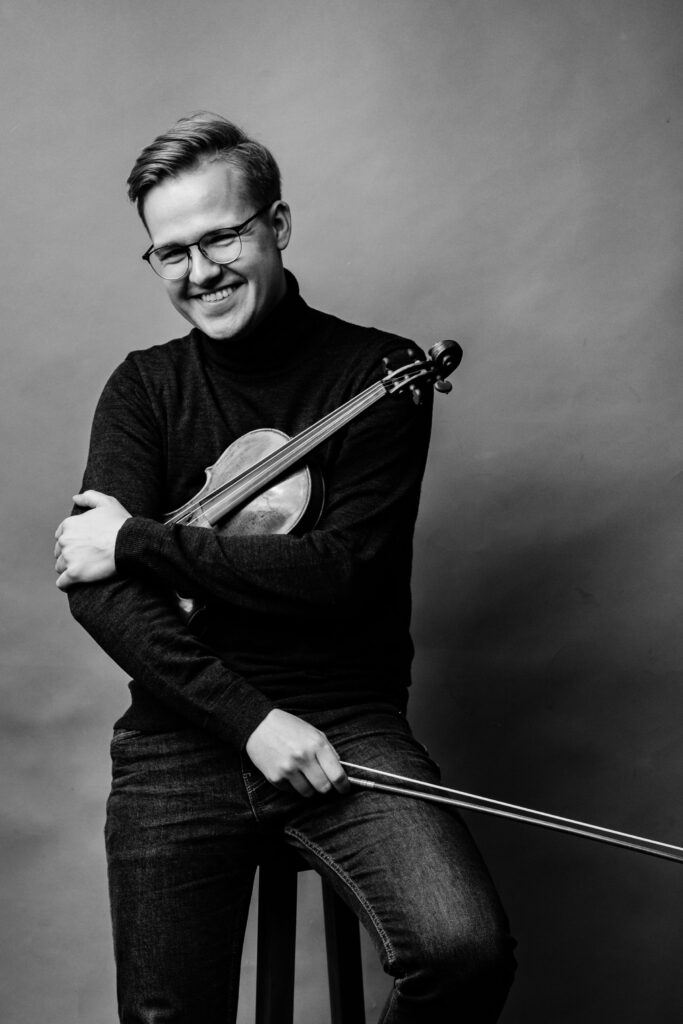 Award winning classical violinist based in Berlin
Member of Karajan-Akademie of Berliner Philharmoniker, international competitions prizewinner, orchestra concertmaster and passionate chamber musician.
As a soloist Oleh has performed in over 20 countries across Europe and has appeared with internationally renowned symphony and chamber orchestras.

Among Oleh's chamber music partners were such musicians as Alexander Hülshoff, Pedro Halffter, Valery Sokolov, Tomáš Jamník, Martin Stadtfeld, Evgueni Sinaiski and others.
Born in Yevpatoria (Ukraine), in a family of musicians, he received his first violin lessons at the age of 5. Since 2006 he studied at the Kyiv Mykola Lysenko specialized secondary boarding school, in the class of Yaroslava Rivnyak. In 2012 he continued his studies at the National Tchaikovsky Music Academy of Ukraine.
From 2014 he studied at the Robert Schuman High School of Music in Dusseldorf, in the class of Ida Bieler. In 2020, he received a Solo Master's degree from the Folkwang Universität der Künste (Essen, Germany) in Boris Garlitsky's class. Now Oleh is continuing his studies at Folkwang University's "Konzertexamen" Programm.
Oleh is the winner of many national and international competitions, including the Eugen Coca International Competition, the Evgen Stankovych International Competition, the Ignatius Jan Paderevsky Chamber Ensemble Competition and others. In 2018, Oleh became a finalist and a winner of the Guillaume Prize Award at the Eugene Ysaye International Violin Competition in Belgium.
Oleh received a scholarship from the President of Ukraine, a German state scholarship, DAAD-Preis, scholarships from the Lions Club, Villa Musica, Yehudi Menuhin Foundation and Deutsche Kammerphilharmonie. VERE Music Fund is supporting Oleh by providing a grant.
As a soloist he has performed in the halls of Belgium, Bulgaria, Italy, Moldova, Germany, Hungary, Ukraine, France and the Czech Republic. As an guest concertmaster, he toured with the Klassische Philharmonie Bonn orchestras under the direction of Heribert Beissel and the Sofia Philharmoniker under the direction of Jukka-Pekka Saraste.
In 2019-2020 Oleh was a member of the Staatskapelle Berlin Academy, a Deutsche Staatsoper orchestra led by Daniel Barenboim. In October 2020, after a succesfull audition Oleh got a position at the Karajan-Academy of Berliner Philharmoniker.
Oleh plays the Pietro Guarneri violin "ex-Schubert" (1702, Mantua) from the Villa Musica Collection.
Oleh has been featured on: